Making quilts is a timeless tradition. Many people may find quilting as a time-consuming task, at of course it might take some time to create a quilt, but remember that it is not at boring, stressful task, but instead it is relaxing and very rewarding to work with quilts.
The first thing you need to do is to set aside time for your hobby… It takes time, but it does not feel so hard if you give it time and decide to have a fun time!
If you have a special place in the house that you can work it is so much better. In the beginning, I started out at the kitchen table, but it was not that practical since I had to remove it every time we should eat. That ended up as a something very distracting, and it was hard for me to start work again after the interruption. now I have a little space for my own where I can keep my stuff, and now I can enjoy my quilting in a whole new way.
My quilting basics
Find yourself a nice pattern. Maybe you have some fabrics at home and want to try that before buying new fabrics….I think that is a good idea! There are plenty of free quilting patterns online that you can find and download.
Here I have listed some of the places that I use to find beautiful quilting patterns, both free patterns, but also patterns that I have to pay for a small amount of money, but that used to be very well written and helpful when it comes to explaining how to make the quilt.
Just one tip: When I want to buy fabrics to make my quilt I often use to buy ready to make quilt kits online. These are so great because the choose fabrics are perfectly color combined, and also the quality of the quilting fabrics fits perfectly together. Sometimes quilter with little or no experience makes the classic mistake of putting fabrics together that does not work. It can be a problem when you have to wash the quilt, and also with the overall looks since all pieces does not fit together very well in the quilt.
Finding free quilting patterns online:
http://www.freequiltpatterns.info/
http://www.hamelsfabrics.com/hamels_free_patterns
Click & Download Your Free Quilting Patterns On The Next Page :
Some sewing tips for your quilt.
You must set the machine to sew 6-10 stitches per inch. You could, of course, chose some other length of the stitch, but the one I suggested will give you a small stitch that works fine.
The easiest sew for beginners is, of course, the straight line stitching. That is the best method for you getting started. You can also turn that stitch into diagonal, or vertical, depending on what look you're going for.
Remember… To use safety pin during your work is necessary, but take out your safety pins as you are going on quilting. Stitching over a security pin is a hazard, so avoid that.
Beginning Quilting Series
On this blog, you can find a lot of help when you want to start your quilting adventure.
They have many quilting tutorials that are very good for beginners.
Choosing fabrics for your quilt:
For most quilting projects I use 100% Cotton.  Occasionally I will use vintage sheets or something else that is a cotton/poly blend.  Try not to mix fabrics as 100% Cotton and Blends will wash and wear differently. That said if you are making something like a memory quilt out of old clothes or something similar where you are mixing a variety of fabric types it will probably be fine – just keep in mind that different types of fabric will wear differently over time.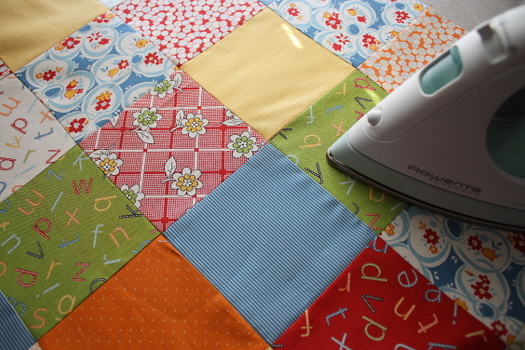 From http://quilting.myfavoritecraft.org/free-quilting-patterns:
The simple answer to that is that it is an item of bedding made of three basic elements.
1: Quilt top
2. Middle layer of wadding or batting
3. Quilt back
These three elements are quilted or stitched together in order for the inner layer stays in place.
Since a long, long time ago people have used this technique to create the most beautiful and creative quilting items. Quilt patterns  have been created and you can find the most decorative pattern made up of colored pieces and patches of fabrics.
Many times the patchwork pieces are joined together as a patchwork block. Often it is just a square unit.
Read more: http://quilting.myfavoritecraft.org/free-quilting-patterns